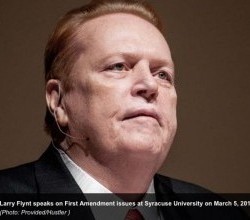 By Larry Flynt / Friday, September 19, 2014
From CINCINNATI.COM
At age 71, Hustler founder and chairman Larry Flynt said he's growing weary of stirring the pot.
But that doesn't mean the chief executive of the Los Angeles-based porn empire is leaving the business soon. He wants to grow the enterprise even larger – by making it a publicly traded company
Flynt said Friday that the privately held company could go public within the next 12 to 18 months. He said the company is already working with "high powered" firms to study the possibility of an initial public offering.
read more